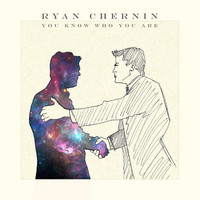 To the fortune of Indie Rock lovers, following the release of the single and video "Ash Tray Kisses," Singer/Songwriter Ryan Chernin recently dropped his debut LP "You Know Who You Are" via Inhuman Records, and what an assortment of work he has accomplished for inclusion his first full-length CD release which contains two more singles with videos previously teased with. The album is full of more singles to chose from in most of the titles, with the exception-of a couple less cut out for the singles market, but nevertheless they're also fabulous inclusions on this collection worth seeking out every note of.
URL: https://www.ryanchernin.com/
Chernin's parents were a source of inspiration growing up, in college he studied film, and as an accomplished actor, spent much of his time in and around theaters. However, the spotlight is something the soft-spoken artist has never been entirely comfortable with. But for the most part he sheds his thin skin for that widely and lavishly, exemplifying much of it on the opening track "Accessories" with its coming out of the sheepskin to reveal the lion within his very soul and get his feelings out via some very strong but also at times very poignant words that don't always come expected.
You can call that the brash side of this album's songwriting, or you can chalk it up to cynics. Either way it makes for all that is to be enjoyed about it, continuing with the some of the same burning vocals but with a completely different structured sound on "The Song Song" which comes off in its title like it could be a folk or even a country song, but it's kept mostly to the title. Singer/Songwriter chops can be found here though, as Chernin stays inclined to include that in his set of musical skills. But the album starts to change from this point on with a lot of variety to come throughout the release.
"Look Right" is the first of a few of the albums best works to be heard, and it's a positive change that breeds another awesome track in "Face Time." The vocals of Chernin are backed by great lyrics on these tracks which keep the album stay well balanced as it wares on. The tracks get better as they go with "The Ballad Of Bo (The Stormchaser)" goes sailing by with the precision and grace mustered by only the best songwriters in the indie-industry. That's why this debut is so special, because Chernin is clearly no stranger to his craft.
"Dangerous Game (feat. Evelyn Horan)" also provides plenty of high energy and great spirit to keep the album bubbling right along. This is definitely-one of the favorable tracks with no question about it, and where things really take off and don't look back. The same goes for every single track left to be consumed, including the aforementioned-spectacular work of "Ash Tray Kisses" with its great accompanying video clip. And the singular coolness of "Quasi' which features Jered Scharff's spot on guitar duties, and the endlessly fantastic closing call of "Sweetie" which clocks in as the longest track on this monster album.
I-TUNES: https://itunes.apple.com/us/album/accessories/1180704592?i=1180704818&app=itunes&ign-mpt=uo%3D4
Elvin Graham