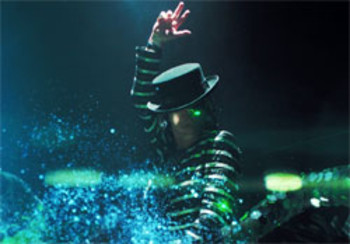 On days when it seems like all contemporary music videos speak in the same drab, flat, prosaic voice, we've got a remedy for you.  We're absolutely sure that the clip for "Let's Turn On", the new single by trance giant Juno Reactor, will be among the most electrifying, kinetic, magical videos you've seen all year. This is dancing-robot futurism – illuminated bodies in motion, suits of LEDs and lasers and reflective surfaces, all things whirling or glowing or flashing, in perfect time with the avalanche of beats and the growl of the bass synthesizer. Get lost in infinite regress amidst the mirror-balls, the showers of glitter, the flashing prisms and concentric circles of color. Think of this clip as a party Juno Reactor is throwing: it aims to mesmerize, and enchant, and leave the viewer breathless.
Remarkably, the otherworldly landscapes in the "Let's Turn On" clip aren't that far removed from those Juno Reactor has lately been able to generate in concert. The performers in those elaborate suits of light and electronic plate mail? – those are the members of the Mutant Theatre, a collective of dancers, singers, and instrumentalists who have been dazzling audiences with Juno Reactor since 2016.  In keeping with his reputation as a dedicated internationalist with a striking one-world vision, Juno Reactor leader Ben Watkins has staffed the Mutant Theatre with vital artists from all over the globe. So central to the project have they become that The Mutant Theatre, the soon-to-be-released Juno Reactor album, will be named after them.
The new album promises to be the latest in a long line of transformative releases from Juno Reactor – and it's sure to hold plenty of surprises. While Watkins has long been one of the cornerstones of Goa trance, he's never been one to rest on his laurels. Rather, this restless musician has regularly raided other styles, including contemporary pop, anime, and film soundtracks (Juno Reactor has composed music for The Matrix series of movies and video games), symphonic music, and tribal folk. "Let's Turn On" is a dancefloor burner for sure, but its interlocking riffs, sophisticated beats, and digitally-treated vocals mark it out as an ambitious work of modern electronic pop as well.