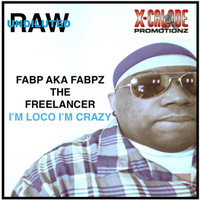 Originally hailing from the United States, Pete Atkinson has been ruling the world of modern pop music for quite sometime now. Most popular with his earlier stage name Fabulous p, he has currently reformed the name into Fabpz the Freelancer, which is already going places depicting his creative mind. An engineer by profession, music has been his ultimate passion from his early teenage days. Taking inspiration from a number of well-known pop artists like Busta Rhymes, LL Cool J, Jay-z, Bounty Killer and Lady Saw, Fabpz had been crafting amazing musical beats quite early in his life and recorded his first few songs at his friend's music studio called the Black Gold Sound System.
Proficient with various genres of music, Fabpz has special knack over the notes of Hip Hop and Dancehall. Rapping from quite an early age, Fabpz not only has gained immense knowledge on the musical attributes of these specific genres but also loads of experience with real time singing and recording. His newly released single, 'I'm Loco, I'm Crazy' is one such example from his hardcore passion to create a different style of music that is equally entertaining and creative.
'I'm Loco, I'm Crazy', is basically an interesting and fun filled composition that needs a genuine appreciation from the young music lovers of this generation. Ear-soothing and high pitched rapping sections covers major parts of the song that could fill the stage and surround the ambience with energy and loads of positivity. The single is recorded under the banner of his own production label, X-Calade Promotionz, which further improves and enhances the quality of the song and video accompanied with it.
The video associated with this track is pretty simple with no excessive digital synchronization or audio tuning. This keeps the song grounded and relatable for its avid listeners and it is sure to improve the number of his fan following very soon. Fabpz is truly a brilliant singer and composer and as his musical skills are no unknown to the world, this particular track depicts his talent as it takes the flow of rhythm and glides through the melodious rapping section.
Fabpz has a heavy and high-pitched voice which he explicitly modulates to give a swing effect with the little tiny pauses and short whispering sections. The song is basically a fun filled interesting gesture to evoke the mild, timid sections in our heart and fill even the dullest heart with strength and passion. If hip hop could energize a gloomy soul, this particular song does the best job.
Strong lyrical section and equally energetic performance marks this single one of his best work in the music industry. Opening over a harmonious rhythmic prelude the song takes quick paces and gradually hits at the highest level of enthusiasm and vitality within minutes. 'I'm Loco, I'm Crazy' unravels Fabpz and his passionate soul that beats with each musical notes he creates and delivers. This track is sure to bring a lot of praise and appreciation from the new generation young music lovers who love intense,energetic music with passionate lyrical section.
9.8/10 Stars
– Robert Parker