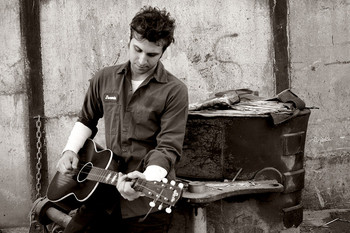 Radiator King prides himself on songwriting from the heart: telling stories that affect him personally, but portraying them in a way that listeners can draw their own conclusions and relate to on a personal level. Boston is a hardworking, blue collared city that has shaped Silverstri's personality and work ethic. Proud of where he comes from, he brings his experiences from the city and the people of it to his new single "So Long (Charlie)," a story of change. "The song depicts a scenario of the final moments as an individual accepts the ending of an event or chapter in his life. Someone close to me had gone to jail not too long ago and I can recall thinking about them a lot during the writing of the song. I tried to imagine this person and how they may have responded to this difficult situation"
The video portrays Silvestri's outlook on life and the mentality that he and the many people of his home city have: life goes on. The video takes you back to the 1940s, post World War II era. It follows Adam as he is about to be taken away to prison and undergoes a large negative change in his life. "Through the main character, I aimed to depict a voice that represents that of the working class. There is a certain type of pride that the character possesses – pride in where he comes from and pride in what he stands for." The video beautifully follows the lyrics and allows viewers to understand what Silvestri is tying depict. The rest of the video follows the main character and how he is dealing with this change and the obstacles he needs to overcome. Ultimately the end of the video sees him being released and shown headed off hitchhiking in the back of truck which portrays the original message of the song: life goes on.
Now a New York resident, Radiator King still shares the hardworking mindset of his home city, bringing that mentality to every facet of his music career. With his roots tracing back to Boston's underground scene, Radiator King will make an impact on anyone who he comes across.