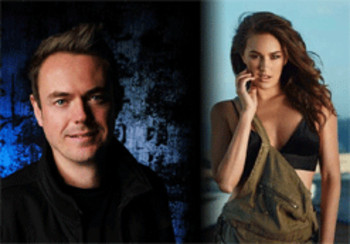 Grammy nominated DJ Andy Moor teams up with Romanian Electro-pop singer Adina Butar to bring you his next progressive trance hit "Wild Dream." This is track number three of five on the Markus Schulz presents: In Bloom EP and it will undoubtedly leave an impression that will not be forgotten anytime soon.
Throughout his career, Andy Moor has built up quite the resume for himself. The English producer and remixer has remixed tracks for major artists such as Paul Oakenfold, Tiesto, and Brittany Spears, all while focusing on his solo career and pioneering many techniques that have become familiar in the EDM world. His list of prestigious accolades does not stop there. In 2008, he received a Grammy nomination for his remix of "Angelicus" by Canadian electronic duo Delerium. He received Best Dance Record at the International Dance Music Awards in 2006, as well as Best Trance Producer and Best Trance Track in 2004. Along with achievements in the studio, Moor also took his knowledge and love for music to the business side of the spectrum and founded AVA Recordings in 2006, a trance and progressive label based out of Staffordshire, England.
With his latest track "Wild Dream," Moor does not disappoint in letting his signature sound that his devout fans love shine through, while displaying the evolution of his artistry. Romanian singer/songwriter Adina Butar helps to create a fascinating dynamic that EDM and trance fans will undoubtedly love. Her airy and smooth vocals float over Moor's clever bassline and driving synths to create a sense of sonic euphoria on a track that will dominate dancefloors worldwide.