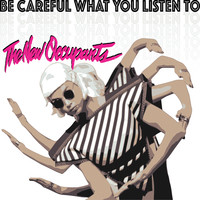 Look over your shoulder and be aware because the wildly zany bunch known as The New Occupants are urging people to "Be Careful What You Listen To".  I have heard all kinds of acts from all over the world but I can honestly say I've never heard anything quite like this group.  Right away, I was thinking of the song, "Institutionalized", by Suicidal Tendencies OR "Liar" by Henry Rollins Band due to the random, talk-style singing however not quite as aggressive in tone.  You could say Rammstein meets Devo meets Crystal Method on this latest single from The New Occupants where unconventional is the Absolute Norm.
This band is occupying a space that is like no other with dance/rock audio from another dimension.  "Be Careful What You Listen To" is off of the new EP titled Halloween is Melting that I'm sure is full of surprises and one frightfully, good listen.  The New Occupants are blasting you off into space with a sound/style that can't be categorized but that also can't be ignored.  Prepare your musical palette for a crazy trip through unfamiliar and undiscovered terrain.  "Be Careful What You Listen To" is an acquired taste but not to be taken lightly because The New Occupants prove to be inventive and dare to be bold!  So, if you're ready for a one-of-a-kind ride, then buckle up and choose wisely as you hit Play.
Experience The New Occupants and their latest single "Be Careful What You Listen To" that will leave you wondering and guessing as to what it's all about.  There is no clear-cut answer because The New Occupants aren't trying to prove anything; it's just about making music that is original to the bone.  Not your ordinary, average recording by any means but that's A-OKAY with me!  So, on that note, perfect way to end this as Monty Python said it best: "And Now For Something Completely Different"!
By Jimmy Rae (jrae2@att.net)