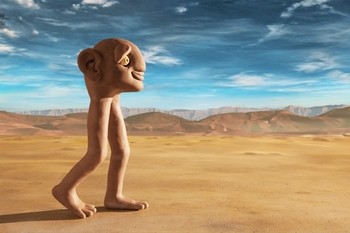 Today, Caspar Leopard, the multi-talented, London based composer, producer and filmmaker releases the music video for his latest single 'Is This Real?'.
Following on from his debut EP 'Restoration', which saw Leopard create a series of self-directed videos to accompany the release, Caspar returns with a new stop-motion animation for 'Is This Real?'. The video is a collaboration between Leopard and ex-Ardmann animator/director Stefano Cassini (Chicken Run, Wallace & Gromet, Time Burton's 'Corpse Bride'). Set in a vast desert landscape, the surreal film follows a solitary creature's journey trying to find form and meaning in a big and lonely world.
Speaking about the collaboration Caspar said: We had both been wanting to make a film together for a while but were waiting for the right project. When I wrote 'Is This Real?' it occurred to me that stop-motion animation would be the perfect medium to explore the songs theme of questioning reality. The video is co-written and produced by Leopard and Cassini, and directed and animated by Stefano Cassini in his studio in Nairobi, Kenya.
Speaking about the track Caspar said: 'Is This Real?' is about looking for answers to the 'Big Questions'- it's about the struggle to figure out who you are and what you want, the endless mystery involved with simply existing, the repetitive cycles we all get trapped in and the dreams we have of breaking out….but the song is actually pretty laid back, which is probably my subconscious telling me to stop taking it all so seriously and to sit back and enjoy the ride.