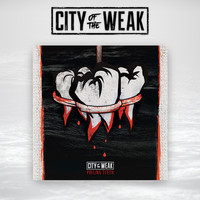 City of the Weak crafts alternative rock with edge on the passionate "Pulling Teeth". An awesome, truly electrifying experience, the songs possess a feral unhinged spirit to them. Her vocals rest front and center of it all, while she conveys a sense of true defiance. Lyrics further emphasize this sense of independence away from it all. Everything is propelled forward courtesy of the unstoppable rhythms, the way the riffs have such an intense physicality to them, with endless waves of distortion washing over it all. Layer upon layer comes together in a most majestic fashion, one that at times appears to soar far up into the sky.
Not a second is wasted for City of the Weak starts the album off right with the fiery opener "Like I Do". Tension continues on the wild "Trust Nobody". A duality exists within the reflective "Glad You Could Make It". By far the highlight of the album comes with the wildness of "Censor This" where the stop-start jerky rhythms give it a totally disorienting experience. Moments of pure tragedy and despair reign supreme on the magnificent scope of "Drag Us Under". Various stylistic choices blend together on the beautiful "Drop the Anchor". Quite anguished the aptly named "Suffer Like Me" goes for a bleak unforgiving landscape. Picking an interesting approach to the album finale, City of the Weak chooses an expansive introspective mood with "Pulling Teeth".
"Pulling Teeth" shows off the undeniable chops of City of the Weak, allowing for a free spirited, freewheeling experience.
https://www.facebook.com/cityoftheweak/
By Beach Sloth