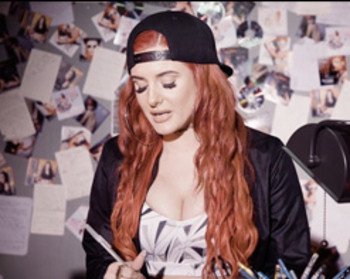 The feeling of pain is inevitable. At some point in our lives, we all face challenges and have to overcome adversity in all different types of situations. Everyone faces negativity from others and how we respond to such adversity defines us as a people. In her latest single "Just," newly-minted international phenomenon Justina Valentine shares her story on how she deals with such hardships.
The hardworking and dedicated New Jersey native does not shy away in her latest single when portraying the negativity and hate that she and so many others face on a day to day basis. The letter to her past self takes you deep into her arduous journey. As we have seen in the past, Valentine is not one to shy away from pushing the envelope to share her art: "Just" is no exception. It portrays powerful imagery of her in emotional turmoil, trying to deal with the opposition that comes her way while pursuing her ultimate passion. As an artist, it is challenging to block out those who want to see you fail, nonetheless, Valentine has faced these tests and has proven to everyone that her drive is greater than all of the people who doubt her.
"Just" does not only spotlight the negative aspects when battling emotional distress; it sheds a positive light on what life will become when you are able to move past pure despair. In her final verse, Valentine shares all the possibilities and opportunities that she has after battling through her tough times. It highlights all the success that Valentine has had the past few years, most notably, being a fan favorite on MTV's Wild 'N Out. Valentine's social reach and influence is growing dramatically by the day, becoming a name that people across the globe are familiar with. The final verse in "Just" goes a step further to discuss what life will be like a decade later, with a family. All of this is possible because she faced adversity head on. The light at the end of the tunnel and ability to overcome her dark days speaks volumes to her as well as something that viewers will be able to cling to and feel inspired by.