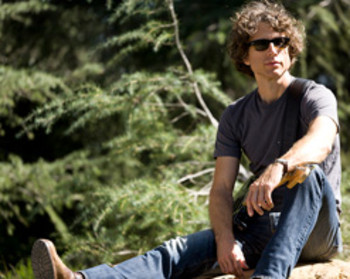 To really understand a musical artist, you have to watch them in the studio. Do they communicate with their musicians, or do they stand apart? Does the song overtake them or do they invite in the unexpected, fluidly channeling it into the music? Moments in the studio can become a high-wire balancing act. Few artists are bold enough to invite in the cameras. But David Haerle is an unusual artist. He's opened the door of his sanctuary to director Sabrina Doyle, whose six-minute performance clip for "Finding Natalie" speaks eloquently to Haerle's poise, attention to detail, and his quiet command of his band. Doyle captures his easy grace on the guitar, his intense concentration, and the passion that invests every syllable he sings.
The band he's assembled is equally impressive. The classically-trained violinist Luanne Homzy of Vitamin String Quartet has played with symphony orchestras around the world. Her stirring, improvised solo decorates "Finding Natalie" with bright flashes of color and emotion. Drummer Reade Pryor, a talented studio musician, has played on television and film scores and accompanied singer-songwriters like Kina Grannis and Dan Wilson. Pryor gives Haerle's tale of young love its irresistible forward momentum. Bassist Carson Cohen and Grammy Award-winning guitarist Alex Wand fill the open spaces in the soundscape with sensitivity. When they lock in and start cooking, the alchemy between these players is not only audible but visible thanks to Doyle's stylized camera work.
Improvisation and experimentation between instruments is something Haerle encourages. This polish can be heard throughout Garden Of Edendale, his expansive, varied, and accomplished debut album. While this is his first full set as a bandleader, it plays like the work of a man with years of experience in the music business.  Wisely, he's brought in some top-flight producers and engineers to help him realize his vision, including the legendary Bob Ludwig, who worked with Queen and Led Zeppelin, and the Grammy-winning Elliot Scheiner, whose credits include Paul Simon and Steely Dan.