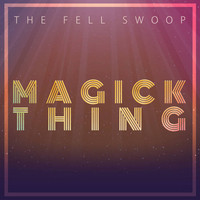 Have you ever been to a place where it brought you back there in your thoughts constantly? Or have you been to a moment in your mind where you just go back to that one particular day that made you smile the most? Most often people find that memory when traveling and a great suggestion of a place to visit is San Francisco, California. Known as the "City by the Bay,' and for having such great attractions as the Golden Gate Bridge and Trolley's, there is a secret that many might not know about and that is the amazing soulful band, The Fell Swoop! The 7-piece San Francisco based band have hit heavy and hard with their new single, "Magick Thing."
For the average listener, 'Magick Thing,' probably makes their mind goes back to the music that was good in the 1970s era—Donna Summer, KC and the Sunshine Band, Kool & The Gang, Earth, Wind, & Fire, Chic, Bee Gees, Parliament, Rick James and many more! But for the more upscale musician and connoisseur of music, 'Magick Thing,' is SEXY music! Anyone that produces a modern throwback sound with horns that actually matter, sound great, but add an ocean of sound to songs in today's world, has a treasure on hand! Fronted by Baltimore native, Mark T, the rest of The Fell Swoop include Keyboardist Pearce Merritt, Guitarist Caleb Astey, Bassist Big City Brian, Percussionist Zach Zarcone, Trumpeter Matt Kelly, and Saxophonist Hurricane Katie. The powerhouse band impressively made an appearance at 2018's SXSW which alone is a wonderful way to start a lasting career!
At first listen, 'Magick Thing' has a way of letting you know that it is going to have a big, classy sound! The horn arrangement is so strong that although the power of the horns is there, it makes the entrance known and immediately, your head nods! The vocals are very strong and although Mark T is the front man, there are some very classy female vocals dancing throughout! If this band doesn't consider a European tour, then there is no hope for the return of true Disco, Funk, and Soul! In comparison to the British Soul Scene, artists like Jamiroquai and MF Robots are great artists to listen in a playlist against The Fell Swoop as the name in itself is so unique! 'Magick Thing' brings such a power-packed essence with a totally catchy hook— "I know from where you came, you've got that MAGICK Thinggggg….I know it can't be tamed…You've got that Magick Thinggggg!" —Just some direct lyrics from the really catchy chorus and honestly, it is just a feel-good summer, sing-a-long song!
I personally don't know what you will be doing this summer, but one suggestion would be to pack a bag, have some really great dance clothes packed, and get connected with The Fell Swoop somewhere this summer! I highly suggest this band as a party starter and fully believe that the energy that is felt on the single 'Magick Thing' is nothing compared to the energy that is felt from a live performance! Live your life but do it while dancing! I highly recommend this song to be in your collection!
10/10 Rating
K. Tibbs