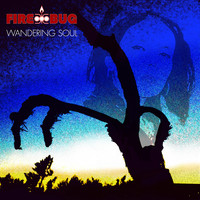 The cover of Firebug's new album is a cool-blue image of a gnarled tree with the singer's face hovering above. It made me want to compare it to U2's Joshua Tree album cover, which led to the eventual amusing discovery that Firebug is currently based in Joshua Tree, CA. Though quite a ways away from the group's home of Louisiana, it's a fitting spot for them, as they occupy the same intersection of blues rock and California cool that made Fleetwood Mac iconic. The aforementioned cover is a no-frills kind of image that marries well with the band's sound—a blast of loud, down-and-dirty Southern Rock that also wears the influence of punk greats like Patti Smith. I'm not the biggest fan of Southern Rock when compared to other subgenres (even though my Southern-bred Dad made sure that Sweet Home Alabama was a mainstay in our house), but that hardly matters when the hooks are this strong and catchy. The opening track "Follower" starts as it means to go on with pounding bongo-like beats and searing blues guitar riffs, inspiring toe-tapping from the first few seconds. A similarly energetic beat gives the album's title track a lot of punch, reminding me of the hard rock grooves of Bow Wow Wow. One can hear touches of a number of great female-led alternative acts in Wandering Soul, as it would fit right in playing alongside Garbage or PJ Harvey (which is a major mark of approval coming from this writer.). 
One of the record's major achievements is how it hits a blues rock sweet spot that causes many other indie rock bands to come off as inauthentic in their attempts to do the same. (For an example of what weak wannabe southern rock from indie bands sounds like, refer to "Give Out But Don't Give Up", the strange misfire from otherwise great Brit electronic crew Primal Scream.) Even the name "Firebug" seems meant to evoke images of warm bayou nights and honky-tonks—though, as the band is from New Orleans, they are more than able to wear this aesthetic with authenticity. Firebug juggles a too-cool-for-school roots rock ethos with polish and musical precision in a way that's quite impressive, and which certainly owes a bit to strong production. With the help of Chris Goss, who has previously worked with Arctic Monkeys, Foo-Fighters, and Queens of the Stone Age, the album is able to serve up one memorable poppy hook after another without ever losing its alt-rock edge. But strong production, while important, is still ultimately in service of a band's personality, and Firebug has plenty of that thanks to its secret weapon, Juliette Tworsey. "Follower" introduces us to her wonderfully raspy, bittersweet voice reminiscent of Janis Joplin, which works perfectly with the song's cynical-sarcastic lyrics about disillusionment in the age of social media and mass confusion. Wandering Soul has the capability to be a great crowd-pleaser album, appealing to both those nostalgic for 70s blue eyed soul and 90s alterna-girl power acts a la PJ Harvey. Count me among their new fans.
Check out the new music video for "Follower" by Firebug here:
Make sure everyone picks up the new album "Wandering Soul" by FireBug which is out now at iTunes, Amazon, Spotify.
Visit their website at www.firebugmusic.com
Follow Firebug on Twitter @firebugmusic