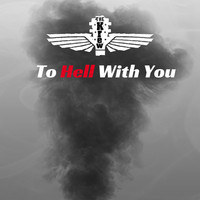 "To Hell With You", the bluntly titled new single from The Krew's fourth album release Smoke Rising, kicks off what's sure to be a rewarding time in the band's history with every bit of the muscular, gritty rambunctiousness listeners should expect from this band. Dubbed by many as "the best Southern Rockers from the North", they've struck up a memorable run so far on the backs of mixing classic rock and roll, blues, and country rock into a potent formula given added edge thanks to modern production and a visceral sound. Some of the band's previous singles have been featured on Fox Sports broadcasts and it's a sign that the band's influence is bleeding over into the mainstream. The Krew may be still moving in the indie music world, but it looks increasingly likely that this powerful band and live unit will be branching out even more thanks to the momentum generated by this release with singles this strong serving as the tip of the spear.
Few bands I've heard in the last two decades pull off this fusion of various Americana styles with the same level of finesse heard here. The Krew are obviously aspiring to something higher than your garden variety roots rock and they achieve it thanks to the obvious discernment of the arranging and the lyrical content. It's here, in particular, where they shine. "To Hell With You" upends your expectations by being a subtle lyrical piece rather than kiss-off song or quasi-anthemic with an overblown chorus. Instead, it's part story, part character driven, and holds a lot of detail for a songwriting style that's not particularly renowned for generosity in that area. It never feels like too much. Instead, it comes off a near note perfect marriage of words and music with an equal emphasis placed on each. Few songs are compromised of elements working as sympathetically with one another as what you'll hear with "To Hell With You".
I especially enjoy how the song is so intelligently structured, making use of peak moments in a way certain to compel you to listen, and flawlessly transitioning from one section to the next. The acoustic and electric elements of the song's sound never clash or vie for supremacy and there's just enough artistic touches via production to accentuate the song's merits all the more. The Krew are clear enough about what they want for this song that it's easy to imagine they entered the studio with things laid out and the song's on point running time reflects this as well. This is music and a band incapable of wasting the listener's time. "To Hell With You" is another great single from a band quickly establishing themselves as one of the more interesting acts on the indie/Americana scene today and they crackle with the promise of being able to do so much more if the right ears hear what they can do.
Jason Hillenburg