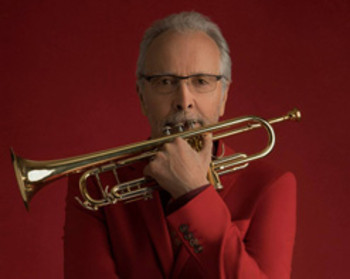 For more than sixty years, optimism has poured through Herb Alpert's horn. There's joy in his tone, hope in his phrasing, and exuberance in his sense of time. While he's far too observant to miss any of the world's troubles, he's always believed that love and creativity would carry the day.  That's the spirit that the Grammy Award-winning trumpeter, singer, and songwriter brought to the smash hit albums – five of which reached #1 – with the Tijuana Brass.  It's the animating force behind Alpert's work inside the industry as one of the founders of A&M Records, and it's central to his mission with the Herb Alpert Foundation.
Considering his outlook, it's a wonder that it took Alpert six decades to cut a version of the Louis Armstrong classic "What A Wonderful World". (Granted, he was busy with a few other things.) Few songs encapsulate his outlook any better than this one does, and the 83-year-old Alpert offers it to an imperiled world as a gesture of reconciliation and generosity. There's a practical application, too: all proceeds from the single will be dedicated to the Louis Armstrong Educational Foundation.
Alpert's work has always existed at the crossroads of cultures – well before it was fashionable, he drew influence from Mexican, Caribbean, Brazilian, and European classical music, and introduced thousands of North Americans to sounds from tropical latitudes. Amazingly – but perhaps not surprisingly – all of that globetrotting is made manifest on "What A Wonderful World". The song switches seamlessly from a reggae groove to a pure Latin rhythm and an orchestral break, and is decorated throughout by musical instruments from many traditions, including pipes, lutes, and, of course, Alpert's own magical horn. The message is clear: it's one globe, and the better we respect and listen to each other, the sweeter the harmonies we'll make.