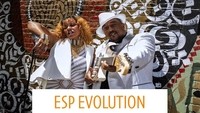 ESP Evolution goes for a great, lush style with the inspirational "Wishing on a Falling Star". Optimism rests within the song's very soul as it drives forward with a tremendous power. Grooves have a physicality to them that results in something that feels so inviting. Layer upon layer of sound is brought into the mix creating a virtual tapestry that incorporates such a wide swath of color. Stylistically ESP Evolution incorporates hip-hop, dance, pop, rock, electro, and funk into a singular satisfying whole.
Not a moment is wasted for ESP Evolution dives headfirst into those heavy grooves. Beats have a heaviness to them while they sway with such energy. Easily the highlight of the track comes from the self-assured vocals that grace the entirety of the track. Lyrics have a thoughtful quality to them. With such an incredible message, the song focuses on a determined sense of catching one's own opportunities. The back and forth of the vocals gives it an almost conversational quality to it at times. By opting for this style everything flows through with the greatest of ease. Towards the latter half of the track ESP Evolution lets loose, letting an ever-growing variety of textures into the mix, allowing it to gracefully come to a beautiful conclusion.
Done with the greatest of care, ESP Evolution's "Wishing on a Falling Star" is simply stunning, full of a strong sense of confidence with just the right amount of swagger.
By Beach Sloth