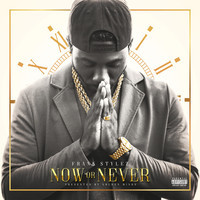 "Bout Dat Action" shows off the impressive confidence of Frank Stylez Ft. Logan. With a passionate flow, the way the song builds up reveals a real talent for crafting infectious hooks. Everything works wonders: from the crisp beats to the lush production. Multiple layers come together to create a virtual kaleidoscopic swirl. By far the true highlight of the track are the powerful vocals which have a commanding swagger to them, riding the beat with a tremendous amount of style. Physicality additionally demands that the song needs to be played at the highest possible volume, to ensure that the track can be felt as much as heard. For the piece requires an audience in order to gain its full effect.
Things start with such energy. Piano introduces the piece. When that beat drops, it has a physical rumble behind it, one that grows ever more powerful as the track progress. Lyrics fly by as the flows play off each other. A large number of references add to the song's truth, while the whole piece feels like a true celebration. Gradually the track takes on a harder and harder hit, with the snares in particular adding to the multi-faceted tact. Flows become impossible to fully dissect for they all work in unison, becoming an entirely new entity. Eventually the way that the track melts away feels particularly masterful.
Frank Stylez Ft. Logan go for a carefree, party attitude in the infinitely playful world of "Bout Dat Action".
By Beach Sloth