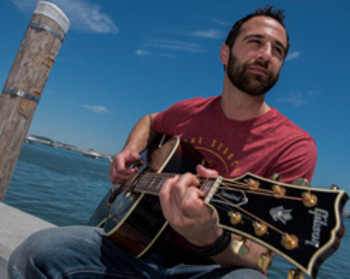 Break out your scrunchies, neon threads, and Michael Jackson records, because it's official: The 80s are back. Matt Wade, A.K.A. My Silent Bravery is throwing it back with his retro new music video for "18." The captivating new artist has been climbing up the charts, recently landing three peak spots on Billboard, #3 on the Billboard Hot Singles Sales Chart, #13 on the Rock Digital Song Sales, and #36 on the Hot Rock Songs Sales Chart. It simultaneously reached #1 on the Soundscan Top 100 singles Chart remaining on the chart for 13 weeks for his reflective ballad, "Girl You Think You Know."
"18" showcases the evolution of Wade's music, shifting to a more confident and anthemic gear while maintaining that signature MSB alt-rock style that fans have come to know and love. The acoustic nature of the track allows bright guitars and colorful harmonies to soar through the mix, adding to the tune's emotion and personality. Soft synths and lyrical references to Bon Jovi and Patrick Swayze are just the cherry on top for anyone with a sweet tooth for the decade.
The video instantly takes viewers back in time with a VHS film filter and a perfectly placed Rubix cube. The first sequence shows two girls topping off their outfits in typical 80's fashion, applying lipstick and putting on denim jackets before a house party. Colored string lights, metallic streamers, and posters of classic 80's films set the tone as they enter the event thrown by the class of '86. Think the modern throwback look of cult hits such as The Americans and Stranger Things.