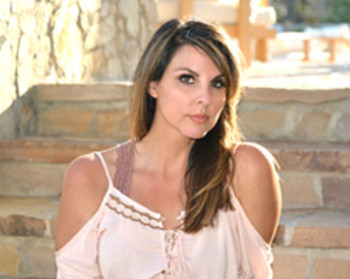 When choosing the life path of an artist, quite often one is faced with the trials and tribulations of the road less traveled. The pressure of social norms can weigh down on artists, making it difficult to reach their goals without crumbling under the mass. For singer/songwriter, Raquel Aurilia, it's been a 14 year journey that has carried her through many phases, creating the soundtrack to her life story. Her new single, "Pretty Roses" is a love song. But don't be fooled by the cliches you've heard before, this is no tale of a blossoming young love, rather a story of eternal love, the kind that carries over into the afterlife.
Tuneful and tenacious, Aurilia's journey began in 2004 when she dipped her toes in music with the help of producer Tony Papa. Papa broke Aurilia out of her comfort zone, and together they crafted her debut album, Finding My Way, which included her very first single, "Feels Like", sweeping the scene off its feet and landing the #28 spot on the Billboard and Hot AC charts. In the midst of finding a solid band, she also started crafting her second album, Holding On To Love with producer Gardner Cole in 2007. With Cole and her band hungry for more, Aurilia went on to release Holding On To Love in 2008. After spending this period of her career in the fast-paced environment of Los Angeles, she began writing with Grammy-nominated producer, Billy Smiley. Smiley opened up a world of possibilities for the songwriter; his Nashville studio presented fresh opportunities for Raquel, and introduced her to the Music City scene she calls her second home today. After releasing Long Way Home with Smiley at the wheel, her career hit some major all-time highs.
Aurilia opened 25 dates of an U.S. tour with John Waite as well as opening for other legends like the late great B.B. King, Gin Blossoms, Kenny Loggins, Lisa Loeb, Eddie Money, Pat Benatar and Riders In The Sky. As if her experience in the live arena wasn't impressive enough, Aurilia's music has been featured on MTV hit series The Hills, The City and Taking The Stage.