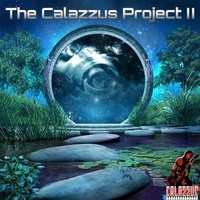 With summer waiting just around the corner, beat master Calazzus is dropping a sick new collection of jams on us in his latest extended play, The Calazzus Project II. If you're not already aware, Calazzus (pronounced Colossus) is a Maryland-based composer who has primarily worked in hip-hop, R&B and soundtracking up until this point in his career. While still primarily focused on making pop music, his style has recently taken different, atmospheric direction that could be defined almost as electronic soundscaping, somewhat in the vein of Daft Punk but without the restrictions of the French house scene that spawned them.
Soundscapes are the most sonic of all professional recordings, because as the name implies, the genre is defined by the textures and micro-sized intricacies that make up all sound as we know it. In order to successfully execute your narrative, intimately close attention to detail must be kept, particularly when it comes to production standards and the arrangement of the final mix. Calazzus demonstrates an expert level skill at this with The Calazzus Project II and its six evocative tracks. Using carefully timed beats influenced heavily by jazz, ska and new jack swing, each uniquely different song plays in high definition clarity with a ferocity not dissimilar to a packed stadium.
The lead off track "Higher Ground," features gorgeous lead vocals from Liz Anne Hill delicately woven into a flowing Caribbean groove. Dangerous lovers and whirlwind like synths swallow us up whole in the currents, and it's almost like we're drowning in an ocean of reverberated harmonies and blissful feedback. The frisky beat provokes a sensual vibe that seems to compliment the constricting wall of sound in a very masochistic way. There's next level thinking in Calazzus' approach to the soundboard, and "Higher Ground" is maybe the best example of his ingenious.
"Right Place Right Time," also highlighting Hill at the mic, sends us rip roaring in a completely unexpected direction, driven by a galloping palm muted guitar riff and a pop-punk abrasive attack that takes us out of the nightclub and into the city streets. There's an almost 80's like indulgence in the synthesized strings and charming harmonic parts on this song that feels so cathartic and freeing in its pomp and bravado. The smooth vocals meld exquisitely into the music, and Calazzus' melodies really allow for us to appreciate the depth of Hill's range.
Making club music isn't the hardest thing in the world if you know your way around the turntables, but making good club music is a challenge. Further, making incredible club music is exceptionally difficult, because you aren't just trying to get people dancing and having a good time anymore; you're trying to inspire them to release their inhibitions and embrace the night they see before them. I don't know whether or not he was setting out to do so, but with The Calazzus Project II, Calazzus has tapped into an entirely new subgenre of dance music, one that not only incites mass motion, but intellectually stimulates the listener as well.
Thomas Patton, III