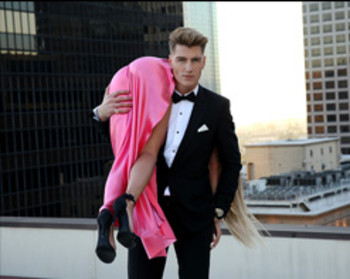 If you've got any familiarity with the popular culture of Europe, Alex Sparrow needs no introduction. This Russian born and Austrian aristocracy raised singer, multi-instrumentalist, actor, professionally-trained stuntman, dancer, director and screenwriter is a star in his native land and surrounding nations – a familiar face on the large and small screens, a concert attraction, and a composer of acclaimed film scores, too. He's been on his homeland version of The Bachelor, taken the prize on Dancing With The Stars, and triumphed on the X-Factor as a teen. He's played lead roles in over thirty movies, and walked away with Best Actor and Person of the Year Awards for his performance in the smash action thriller The Suicidalists, and a two time recipient of Nickelodeon Kid's Choice Award as Favorite Actor
With nothing left to prove in his homeland, he's brought his unique collection of talents to the United States, starring in the popular American TV show UnREAL broadcasted now on Lifetime Channel. If the worldwide success of "She's Crazy But She's Mine" is any indication, Alex Sparrow should have as little trouble conquering the States as he did in capturing the hearts of people in Europe.
"She's Crazy But She's Mine" is the sort of pop song that dominates summer playlists: breezy, propulsive, energetic, instantly memorable, effortlessly confident. Sparrow has paired the track with a video that reinforces its playfulness. The mischievous clip for "She's Crazy But She's Mine" – which was written and directed by Sparrow himself – has already been viewed over 600 million times on Facebook and more than 300 million times on YouTube. Its popularity has been unlimited, – "She's Crazy" has been shared and liked and Tweeted all over the globe, and with each enthusiastic approval, Alex Sparrow gets that much closer to the worldwide celebrity that seems inevitable for him.
Shot and edited as crisply as any Hollywood movie, the "She's Crazy But She's Mine" video finds Alex Sparrow in a prankster duel with his girlfriend. The campaign of escalating practical jokes struck such a chord with viewers that Sparrow has returned to it for two equally well-made follow-up clips. "Got Me Good" takes the feud to the schoolyard, where a pair of elementary-school kids (later shown still up to their antics in high school) trade stunts of their own; "Again And Again" amps up the danger level, Mr. And Mrs. Smith-style, and ends with both lovers in traction.
Few pop stars leap on to the scene with their personalities so clearly defined. Because of these videos, you'll know exactly who Alex Sparrow is, and why audiences find him irresistible no matter where he goes.