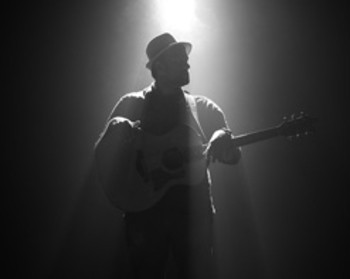 Some say our path in life is pre-determined, a story written by the time we leave the womb. We each garner our own experiences to pave the road we ultimately take, only to discover its bumps and cracks along the way. The first inkling of direction for Dhruv Visvanath came when he was seven years old. His mother told him "women fawn over pianists." Naturally, Dhruv started playing piano. A few years into applying this sage wisdom, his aunt came over and brought her acoustic guitar. It was the kind of guitar that had been neglected for years making it physically painful to play, but Dhruv was enthralled by the sweeping sounds of the 6-string. He soon moved onto electric guitar, perfectly in line with his newfound obsession with metal music.
At the age of 16, the tragic passing of his father became a major turning point in Dhruv's life as it began to influence everything around him, especially his music. Having spent the majority of his childhood in places like Hong Kong, England and Zambia, his creativity blossomed with the flowers of artistry from across the globe. Upon returning to India, Dhruv found that as proud as he was of his musical creations, the local audiences didn't get it. His sound was inherently non-Indian, something his hometown just couldn't understand. But once the culture shock wore off, one by one the New Delhi public began flocking to Dhruv as a talent with an innovative sound that had never been heard before.
If Bon Iver became a guitar virtuoso, traveled the world, and enveloped an Indian soul, his style may be comparable to the vast soundscape created by Dhruv Visvanath. Off his new album, The Lost Cause, this artist's new single, "Wild" is a gripping humanistic tale of a heart in search of freedom. Freedom from the confines of modern responsibility. Freedom in the way that a child feels running through an open field with blue skies and the sun shining down on his face. The music video for this worldly-smash offers an inspirational look at a life of isolation through the eyes of living, breathing mops. These mops are faced with loneliness and heartache like many around the world who are confined to their roots, shut down each time they try to achieve something greater. The brainchild of director, Tanvi Gandhi, this captivating visual masterpiece makes for an all-encompassing experience, sure to tug on the heart strings of viewers across the Universe.