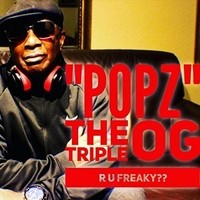 Popz, also known as "The Triple OG" is based out of Merced, California, and it probably one of the coolest artists you could ever listen to, hip and cool at the age of 73, when most people are settling down, Popz want to know "R U Freaky?"
"R U Freaky" is a combination of Funk and Rhythm & Blues that shows that Popz writing skills are up there with the best of artists in the genre. A veteran of the entertainment industry, and a seasoned singer, songwriter, producer and vocal coach, Popz reminds the listener of other greats Con Funk Shun and Ohio Players. "R U Freaky" has recently been released  and contains three versions, the "R U Freaky" version, along with R&B and instrumental versions for the music connoisseur. "R U Freaky" is funk at its best. The single has a throwback funk vibe, which is very nostalgic, and Popz sings with a definitive sultry tenor voice and R&B groove.
I am sure that Popz is a lady pleaser, and if you did not know his age, you would just think you were listening to an amazing artist with a ton of SWAG… after all, age is nothing but a number, and Popz is taking the music world by storm on his terms and in how own way.
Popz has done an incredible job on the new single "R U Freaky" of combining the elements of jazz and soul with R&B,  amping up the moving beat to create a song that makes you want to get up and dance. The electric bass takes a starring role in the single and the beat stands out in a way that will have you  singing to yourself for days. The introduction to the single has incredibly smooth vocals, and encapsulates you from the very beginning. "R U Freaky"  has a few similarities to "Word Up" by Cameo, which for me is the greatest of compliments. "R U Freaky" is really really great, and Popz sings "I'm A Freak Everyday." God Bless this incredible performer who has more game than most artists half his age, who says "You Can Be What You Wanna Be, and Still Be A Freak," which are words to live by. The single is bold, real, danceable and will definitely be enjoyed by anyone who loves great music. "R U Freaky" is reminiscent of great music from the past, fits into the music of today, and is a welcome relief and joy to listen to, Popz is a singer with his own voice, vision and style, he is original, and he does not sound like every other singer or every other song being released into the marketplace today.
I highly recommend the new single "R U Freaky" by Funk Master Popz "The Triple OG" and commend him on keeping the genre alive and kicking, while displaying incredible vocal abilities and a flair for showing how cool being "Freaky" really is. Support Popz today!
Addison Coleman