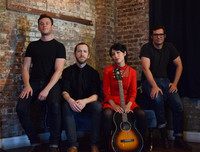 Fans of rock, country and folk alike will be very thrilled to hear the new split EP by Stephen Karl & Handsome Animals and Darlin Darlin, available this coming May 4th. I was fortunate enough to give the split a couple of spins today, pre-release, and was not only satisfied with what I heard, but now I cannot wait to hear more from both of these distinctively unique sets of artists. Driven by equally talented songwriters and excellent studio production, there's a little of something for even the most discriminating music fan on this record.
URL: https://www.handsomeanimals.com/
A native of the Land of Ten Thousand Lakes, you can definitely hear Stephen Karl's Minnesota roots in his craftsmanship. Shades of Paul Westerberg's reflective lyricism and bold storytelling are quite prominent in his style, especially in the song "Cindy," which opens the EP like an early sunlight breaking through bedroom curtains. The drums drift along with a certain melancholy, and there's a lingering hunger for the vulnerability of youth. "Shelter," the second offering from Karl of this release, is also inward looking in its prose. Reminiscing of how close two lovers once were, staring down at broken glass and instantly being reminded of all the broken promises, the things we used to be; the things we know that we could be. The weight of forever rests on our shoulders when there's no one there to get us through the mess we've made for ourselves. Although currently based out of New York, Stephen Karl and his band live true to the standards set long ago by his fellow Upper Midwesterners.
Darlin Darlin also deliver the goods on the second half of the EP. Led by the heavenly voice of singer/songwriter Joanie Leon Guerrero, "Easy," takes us out west with its slow picking guitar intro, which even at this tempo has a swing to it. Leon Guerrero and her mighty vocals tell us the story of disconnection between two people, highlighted in the marvelously catching chorus that asks, "Was there a line you crossed, was the cut to deep? Did you give in? And was the knot too loose, or the rope too weak? Was it just too easy?" I was honestly taken aback by the breathtakingly personal and genuine tone in her delivery, which falls so perfectly in sync with the backing band. The second song from Darlin Darlin, "Katy," is a ballad that instantly evokes similarities between Leon Guerrero and Loretta Lynn (there's a definitely a splash of Mark Lanegan in here too).  "Katy" articulates the desperate need for an outlet, for relief from the mayhem of our overly complicated lives, and it does a fine job of doing so. On both tracks, Leon Guerrero is excellently accompanied by multi-instrumentalist Brett Parnell, guitarist Elias Blumm, bassist Ben Mattison and drummer Evan Mitchell.
Without a doubt, I strongly recommend fans of good music check out the new split EP from Stephen Karl & Handsome Animals and Darlin Darlin. Regardless of your scene, the talent on this recording speaks for itself and leaves listeners wanting more.
Thomas Patton, III