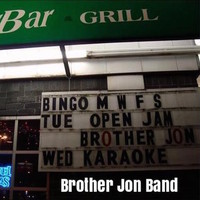 If you want to take a deep dive into something like sharp and crushed distortion with a mounting guitar tone, "Bobby Blues" is the right track for you. This song belongs to the last album of Brother John, "Open Jam". "Open Jam" earned massive critical appreciation, especially for the song "Bobby Blues". This song came as a single release with a separated video. It is a song that let you lose yourself in the true strength of groove-rock of Brother John, just chill out, and get lost in the loop of the song. The hypnotic rhythm, energizing sound, the flat-out tone, the powerful drums, bass, guitar solo, has made it a true rock jam.
"Bobby Blues" lasts for 4 minutes and 27 seconds, and through this timing, the listener can experience a pure and organic joy that comes out from electrifying guitar notes, bold-hitting drums, fiery and passionate vocals. even those who don't get bothered about Blues-rock, once they listen to "Bobby Blues", it will stir up the concealed rock star self in them and make it exposed in its full. The high-spirited and fearless lyrics wrapped around the instrumentation and melody will definitely seize the attention of the audience.
It will make them oblivion of the present world, provoking their minds to roam around the glorifying past days of rock and roll. "Bobby Blues" sometimes sounds subtle, sometimes furious and edgy, but never over-powers the fundamentals of Blues-rock. The song is a true and proportioned mixture of classic rock and Blues-rock; both of these genres of music go hand in hand and get blended to become a unique and indomitable fusion.
The mettlesome and flashy solo mirrors not only the expertise of Brother Jon but also shows how the members of this Minnesota based band is dedicated and committed to musicianship. That's why "Bobby Blues" dazzle with passion, emotion, and impress the audience by taking a pass through their ears and reach to the deep core of their mind.
Overall the track plays out well, following a simple video, showing a male wandering and walking through streets, trying to gear up his thoughts. For 4 minutes and 27 seconds, "Bobby Blues" runs like any other Blues-rock soundtrack, captivated by a melodious angst, throwing out right emotion in the right situation. The instrumentation, weaving of background music is just something like a song like "Bobby Blues" can be played. Just take a sip of "Bobby Blues" and the beats of Bluesy rock will fold your mind within itself, transforming the environment into something that orates more than sound, music, and lyrics.
The exuberant drum-fills, proportioned and reliable bass-lines, angst yet smooth vocals, the blazing electrifying guitar tones, will captivate the attention of the audience from beginning to the end of the song. All you want to do just press the repeat button of your music player and get yourself lost in this Blue-rock jam of "Open Jam". And listening to the song with constant repetition, won't make you feel regret.
– Abigail Williams