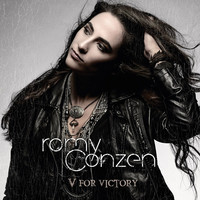 Romy Conzen creates a post-punk pop sound with the gorgeous world of "V for Victory". Infused with an intensity, the album at times recalls the passion of early Blonde Redhead. Stylistically Romy Conzen filters a wide variety of genres into the mix with funk, hard rock, electro, pop, all nicely framed by a defiant punk like attitude tying all of it together. Quite thoughtfully executed, the entirety of the album teems with a tremendous amount of energy ensuring that every single part of it positively shines. By far Romy Conzen's vocals stun, going from tenderness to a righteous fury, oftentimes within the same song.
WebSite – https://www.romy-conzen.com/
A raw gritty sound introduces the album with the powerful "Going Down" where the careening rhythms working wonders. One of the album highlights comes early with the moody atmosphere of "The Child I Love". Nimble grooves with fantastic bass work defines the stellar "Aiaio" which embraces a party-like nature. Swinging through with such a loose, bluesy style is the title track, the gargantuan "V for Victory". Easily the best track on the album "Farewell" incorporates a western twang with a hard rock edge, ensuring the wild energy feels outright satisfying. Going for a more minimal approach is the tension-filled "Tonight". Stripping things down to an acoustic, symphonic take the blissful "Bitter Now" has a cinematic flair to it. Intimacy reigns supreme on the hushed "The Journey". Continuing this mood is the album closer, the sweet "Les Ailes De L'Amour".
Artist Page – https://bongoboyrecords.com/romyconzen/
With "V for Victory" Romy Conzen holds nothing back for all of it rushes through in a gorgeous display of color.
Album title: V for Victory
1. Going Down 3:38
2. The Child I Love 3:22
3. Aiaio 3:20
4. L'amour Triomphe 3:51
5. V for Victory 3:13
6. Farewell 3:35
7. Bubble Up 3:12
8.Tonight 3:31
9. C'est Le Coeur 3:23
10. Bitter Now 5:01
11. The Journey 4:33
12. Les Ailes De L'amour 4:42