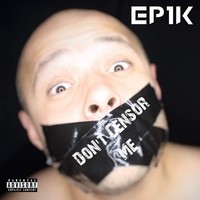 A flawless delivery flows through Epik's thoughtful "Don't Censor Me". Over the course of the collection, Epik explores concepts of relationships, rejection, censorship, and concepts regarding freedom. By opting for such a wide range of topics, everything contains a poignancy in terms of overall storytelling as well as a greater look at a society which increasingly feels less comfortable with confessional outpouring. Instead of being honest, individuals now compel themselves to simply hold back, to never reveal their truest realest thoughts. Cutting through this idea, Epik ensures that every single word possesses tremendous power, going from sincere to satire oftentimes within the same verse. With this dexterity Epik crafts a collection that feels incredibly vital and real.
Stream: 
Setting the tone, "Don't Censor Me (Intro)" begins the collection. From there things gain such power with "See Right Through" featuring incredibly nimble beats alongside a soothing melody. Highly multifaceted the infectious rhythms of "Sirens" create a beautiful world. A fractured funk defines the lush style of "Cruisin' ft. Brenna Diehl", where Epik embraces a summery spirit. Things slow down on the laid-back grooves of "Hood Life". By far the highlight comes with the passion of "Step Up", where the piano sample adds a sense of grandeur into the proceedings. With brutal honesty and poetry comes the entire lifetime of "I Don't Wanna Leave". Neatly bringing everything to a fantastic finale is the wild unhinged spirit of "Chosen ft. Allana Diaz".
"Don't Censor Me" shows off Epik's impressive skill in critiques on modern culture as well as pointing a path towards a healthier, more transparent, way to be.
By Beach Sloth