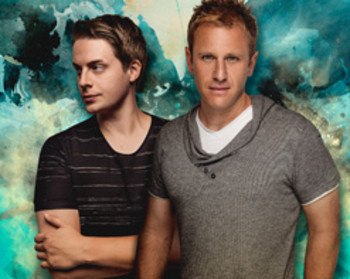 2017 coming to an end means capping off another monumental year for Austin, TX's Tritonal. The year saw Chad Cisneros and Dave Reed taking their unmatched presence to major festivals around the world, including a main stage performance at New York City's Electric Zoo and Chicago's Lollapalooza. After the undeniable successes of "Blackout", "Hung Up", "Strangers" and most recently, "Good Thing" they've returned with yet another incredible video for their newest single, "Call Me".
After amassing over 53 million streams on Spotify in 2016, Tritonal has more than doubled their bounty in 2017, boasting over 120 million total streams. The group's fans, better known as, "Tritonians", have shown undying admiration for their original music as well as widely successful collaborations ("Untouchable" with Cash Cash and "Until You Were Gone" with The Chainsmokers) and striking remixes for peers such as Armin van Buuren and Rudimental. Their Adam Lambert "Ghost Town" remiexed reached millions of listeners on iTunes, SoundCloud, and Sirius Radio via their Tritonia podcast.
"Call Me" opens with a small house party in the middle of the woods where a love connection is sparked. The young couple creates a dream-like getaway wherever they go. Every moment together is a picture branded into the minds of the two lovers. They meet back at the house in the middle of the woods where it all began. Her lips froze as he walked away, and just as suddenly as he came into her life, he was gone. But as soon as she turned around, he was right there again, ready to start over. From sleeping in cars together to trying to run away but being pulled back in, "Call Me" proves that if love is true, it will always shine through, even on the darkest days.