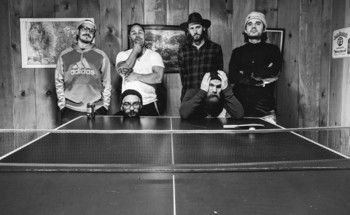 Jazzy/proggy/pop-rockers Kindo bless the human race with the release of their new single "Human Convention". This track has followed the release of "Return to Me" and is the first of ten listed off their forthcoming album, Happily However After on 4/13.
"Human Convention" is a prime example of Kindo's diversity as a group. The track combines both rock and jazz undertones to convey a sound that is utterly unique to the band. Like all the music they've recently released, "Human Convention" is produced in-house by frontman Joey Secchiaroli. The vocalist's smooth pop vocals describe the banality of human habits over gritty riffs and funky rhythms. Secchiaroli sings, "it's time to break the spell that you've been under" while explaining that there's no reason to miserably conform to the rules of society.
Regardless of their independently derived success, the Buffalo natives have remained both true to their original sound and ideology that music is a shared experience between artist and fanbase. Since their beginning, they've accumulated millions of views on YouTube as well as millions of plays on Spotify.