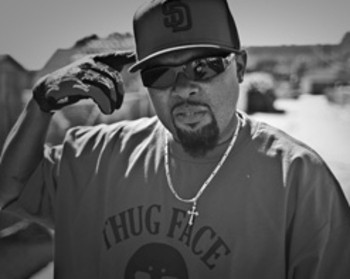 While Southern California has long been known as a hotbed for the entertainment industry, that community is all centered in Los Angeles. Rapper KNITWIT- real name Shon Lloyd- grew up in San Diego, but the city never provided much of a music scene for him. "San Diego has never been supportive of any rap music," he says, and instead he found support in other California cities like Los Angeles and Oakland before moving to Arizona earlier this year. He grew up playing drums in a church, and took influence from A Tribe Called Quest, Naughty By Nature, Tupac, and NWA when creating his music. Things were "hit or miss" at first; after starting out by releasing gospel rap cassette tapes under the name Shon T, he signed a contract with Mo Thug Records in 1992- he took on the name KNITWIT when it came time to break out and create music of his own.
http://www.facebook.com/knitwitsd/
KnitWit describes his music as "reality rap", focusing on life experiences that he's been through and that others have been through. His latest song is "LookOut" and it features a beat that's undeniable, and it's his turn to make people aware that KNITWIT is here and not one to be looked over. While people are becoming more familiar with his name thanks to song placements on the hit TV show Empire, "LookOut" is his chance to establish himself as an artist in his own right.
For the "LookOut" music video, KNITWIT stepped in front of a green screen and called the shots. The clip features multiple versions of the rapper, each with a larger than life, bobblehead effect. Commenting on this KNITWIT says, "I wanted to make my head bigger so you couldn't miss it, so you couldn't look over me no more…. You gotta see me so look out, here I come." Always a drummer, he's seen hitting on buckets for percussion, which adds character and chemistry to the visual aspect of the video.