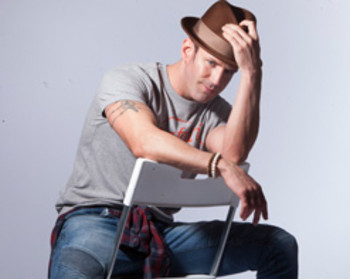 From the first stutter of the bass synthesizer, you're drawn in. Ryan Brahms is dealing something powerful – something seductive, mysterious, and mesmerizing – and he's determined to give the world a taste. "Love Dealer," the latest single from the exuberant New York City singer-songwriter, is hummable, danceable, irresistible: it's a grown-up pop song for adults who haven't forgotten what it feels like to fall under the sweet enchantment of a groove.
This "Dealer" has all the elements in place, including a propulsive beat, twinkling piano, scratchy Chic-like funk guitar, gossamer backing vocals, intimate whispers, and a charismatic performance from Brahms, who has never sung with any more urgency than he does here. And while it could be said that the track completes his transformation from piano balladeer to modern pop singer, the songwriting sophistication and poise for which he's known is still there – it's just been presented in a glossier, tastier package.
Now he's got a video to match the carefree tenor of his new sound. The "Love Dealer" clip is glamorous and sexy, dangerous and intriguing, at once exotic and playfully familiar. Director David Montoya takes Ryan Brahms to Cartagena, Colombia – a coastal city of gorgeous colonial architecture, South Caribbean waves, and some beautiful bodies as well. Brahms plays a stranger in town, but one with the best of intentions; he doesn't mean to pinch the winsome blonde girlfriend of a local heavy, but with moves as smooth as his, it's inevitable. The chemistry between Brahms and his female lead is undeniable, and when they finally do get down, Montoya steams up the screen with some tastefully provocative shots of the two principals in action.