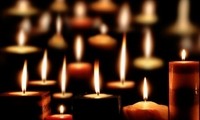 Reverend Peter Unger is out with a new song called "Blood On Our Hands", a chilling response to the Parkland Shooting and the greater gun violence debates that occur each time a horrendous mass shooting occurs, especially within the past few years. Rev. Unger calls to end this useless back and forth in the search of a solution. He also included a lyric video to go along with the song.
With a song like this, you would expect a certain level of emotion, within the vocals and throughout the rest of the song. Unger delivers, his voice sounding weary and bitter. It suits the mood and the lyrics perfectly. The song certainly sounds like something you'd hear in an old church, with the solemn guitar playing and the lyrics. The guitar work is haunting and beautiful.
The lyric video that goes along with this has a collection of black and white photos in a slideshow-style fashion. The lyrics don't lag behind the vocals and they have more character than most lyric videos you see. The only problem is that the utterly desolate images tends to take you away from the issue at hand- it feels more generic rather than a video with a clear mission. If you can appreciate the subtlety there, however, it's a solid video.
The lyrics don't shy away from the topic at hand. Unger starts off passively, urging the water to carry his hope and care, but each time wondering if it will ever return. Then it gets into the meat of the issue, stating that it is our fault, as a society, that these horrible shootings continue to occur, and that it's on us to finally bring it to an end. He says that inaction is the same as having "Blood On Our Hands," hence the song's title. It is a damning statement that holds true. The only people who shouldn't have to advocate for a safer future are the children that are at the highest risk.
In this case, the kids of Stoneman Douglas High School have been forced to advocate for gun control- many of them believe that if they don't, nothing will ever get done. In this climate, I don't blame them for believing that. Despite all of the mass shootings within the past three years alone, nothing has truly been done. There has to be a change, and the students of Stoneman Douglas have determined that this is the breaking point.
This is undoubtedly an important conversation to have, and the fact that Rev. Unger decided to approach it through music is an action that countless other artists have also done. They move to their passions to be heard, and use their talent to hopefully open the minds of those who listen. It speaks of how formative and moving music can be, especially when you have something that needs to be said.
"Blood On Our Hands" is a song that shouldn't exist about an epidemic that shouldn't be happening. However, I'm glad that Rev. Unger was swayed enough to write this song and I sincerely hope it reaches the hearts and minds of those who have the power to change this nightmarish time.
Site – https://www.reverbnation.com/revpeterunger
Victoria Patterson