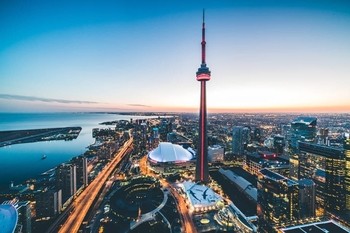 Canada is a beautiful place to take a vacation, and is becoming increasingly popular with travelers. Toronto, the largest city in the country, is no exception. Whether you're a native looking for a fantastic getaway, or an American hopping the border, Toronto offers a wide array of amazing experiences. The next time you're planning a vacation, remember Toronto. Dust off your passport, if necessary, and prepare for an unforgettable vacation. Without further ado, here's a list of some of the top activities you can find in Toronto.

The Toronto Islands
When visiting Toronto, be sure to take a ferry to the three Toronto islands, and enjoy a relaxing afternoon. Almost no cars make it to the island, so it's the perfect place to stroll. Favored by picnickers, the islands have a haunted lighthouse, a petting zoo, and numerous bike and walking trails. The Toronto Islands are a great place for fans of nature to relax, and they're an entirely free afternoon getaway.

The Distillery District
The distillery district was active back in the 1800s, and it is filled with beautiful Victorian buildings. Now an area for performances, art galleries, shops, and restaurants, the district distillery is an excellent place to spend an afternoon or evening. It also hosts festivals and outdoor exhibitions throughout the year, so be sure to attend any that happen during your stay!

The Kensington Market
Established in 1920 by Jewish immigrants, the Kensington market is now an extensive series of shops that offers goods from all around the world. Food, fashion, and fascinations are all available, making this market an excellent place to spend time.
Casa Loma
The only full size castle in North Toronto, Casa Loma was built in the early 1900s. Featuring towers, stables, a massive wine cellar, and even secret passages, Casa Loma is a beautiful, fascinating destination. For history buffs, museum lovers, or families who want to see something unusual, Casa Loma offers a unique experience.

Toronto Zoo
Any zoo is sure to be a hit with kids, and the Toronto zoo is not exception. It's 700 acres and houses more than 5,000 animals. It boasts the largest indoor gorilla exhibit in North America. The zoo even includes giant pandas. With rope courses, pony and camel rides, and a water play area, the Toronto zoo is the perfect stop for families.

Visiting Toronto is an excellent way to take a break, for you and your entire family. The next time it's time to plan a vacation, consider Toronto, and start making plans. To get a full sense of the upcoming arts and culture in Toronto during your visit, be sure to read the latest Toronto news. You'll also find restaurant reviews and a listing of local events, so be sure to make use of their resources.
While it's not necessary to plan every step of your trip ahead of time, since Toronto is a wonderful city for spontaneous decisions, it always helps to know what there is to see! Whether it's in the next few months or a few years from now, Toronto has something great to offer your family.