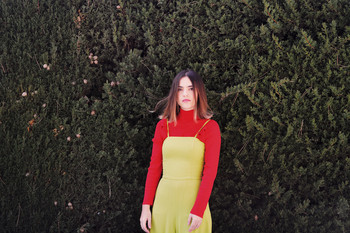 Odina tells us "The video for 'Nothing Makes Sense' is an ode to nonsense; I wanted it to be random, to not make any sense."
Odina, named after 'Mount Odina' in Northern Spain where her family originates, links the Singer/Songwriter back to her roots; she aptly has rawness and honesty shine out of her vocals and guitar parts. Influenced by Keaton Henson and Bon Iver amongst others, 2016 saw the release of Odina's debut EP 'Broken', a project conceived in the intimate space of her small London bedroom that has managed to amass totally over a million streams on Spotify. To date, she has received praise from The 405, Clash, Earmilk, Nylon, The Line of Best Fit, and Wonderland to name a few.
Now, Odina releases her warm, self-directed video for the lead single. Her style of songwriting characteristically showcases some of her most vulnerable facets, however, there's a sense of irony just under the surface.