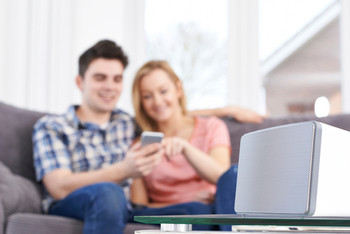 As an audiophile, you are always on the lookout for new gear to enhance your listening pleasure. One essential way to turn up the volume for your guests is to remove your headphones and plug into a speaker system. Whether you are planning a party with friends or you simply want to dial up the volume on your device for your own listening pleasure, you need a high-caliber sound system to match your passion for music.
Since you use your smartphone or tablet as your primary music source, you need a smaller speaker setup that really delivers. Here are three options worth trying out:
1. Use Your Smartphone System to Amplify Any Listening Occasion
With phones like the Galaxy S8 plus, it's simple to create your own mobile sound system. Features that make this sharp smartphone perfect for your sonic experience include:
The S8 Plus features 64GB of internal memory, which provides ample space to store at least a good chunk of your music collection.
Bluetooth 5.0 gives you the opportunity to hook up your phone to a powerful Bluetooth speaker like the Sonos PLAY: 1or the Anker SoundCore.
Sync capabilities via your data plan or accessible Wi-Fi make it easy to connect to your Spotify, Slacker, Pandora and other subscription-based music platforms.
With these features and so much more, your Galaxy seamlessly turns into a legit sound system for your personal enjoyment, or as a way to turn any situation into a party.
2. Your Tablet Is Another Exciting Option for Musical Immersion
Any of the latest tablets can help you take your party on the go. Here are just a few ways that your tablet can turn into a virtual turntable:
With storage capacity that can spiral to 512GB, you can probably quite easily fit your entire music collection onto your tablet of choice. You may become known as a mobile DJ with this type of setup.
Whether you use your data plan or the nearest Wi-Fi connection, you can tap into your music platform of choice in a snap.
Featuring Bluetooth 4.2, an investment in an Amazon Echo or Bose SoundLink Micro speaker gives you the best bang for your buck and your ears. Stretch your dollar even further if you use a Bose promo code.
3. Never Count Your Laptop Out of the Musical Equation
While slightly less portable and compact than tablets and smartphones, you can still count on your laptop in a pinch to get the music flowing. If your laptop is Bluetooth-enabled, you should definitely purchase a high-quality Bluetooth speaker. However, all is certainly not lost if you have an older laptop without Bluetooth when you consider the following:
Check out the Bluetooth 4.1 Adapter that can transform non-Bluetooth speakers with the power of Bluetooth instantly.
Opt for new in-line speakers to get the job done.
Whether you are the designated DJ of your upcoming office party, or you simply want to crank up the tunes on a Friday evening, you can turn any of your devices into your foundation of sound.