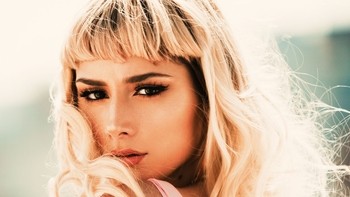 Rising star Annalise Azadian is making waves in the alternative-pop scene. As a self-taught guitarist and songwriter since the age of 11, the New York City based musician is making her mark on the music industry with honest songwriting and emotion driven vocal performances. Annalise shapes her unique sound by blending pop, soul, and hip hop elements, creating hits such as "Work In Progress," a track named Ebro's choice for #BoroughBanger on Beats 1.
Annalise won her first awards at the Apollo Theater at 14 years old and has since been performing at New York venues, earned a feature on American Idol, and studied at Berklee College of Music. Now at 20 years old, the singer-songwriter has performed at over eighty venues and received acclaim from press and industry elite, including legendary artist Elton John. In her latest single "Passenger Mirror," Annalise sings her insecurities about where she is going in life, comparing her goals to the warning on a car's mirror: "Objects in mirror are closer than they appear."
https://www.annaliseazadian.com/
The "Passenger Mirror" music video brings the self reflective nature of the song's lyrics to the forefront. The video begins with a shot of Annalise loading her guitar into the back of a vintage Chevy, heading off for a trip with no clear destination. Shots of Annalise singing out of the car window and into the passenger side mirror pair perfectly with her passionate vocals and the song's dramatic string line, heightening the song's themes of confusion and longing for something more. Images of Annalise in glamorous attire singing in front of old car parts contrast the serene visuals of clear skies and the open road. These differing visuals reflect the singer's uncertainty about what attaining her dreams really means, bringing the song's message and Annalise's inner thoughts to life.