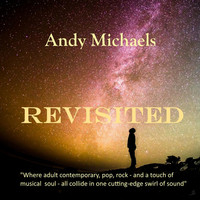 Andy Michaels embarks on a lovely journey with the life-affirming "Revisited". The grace of the entire album simply stuns, for Andy Michaels draws from a wide variety of styles, ranging from chamber pop to classical, with a bit of soul thrown in for good measure. By far the true highlight of the album comes from the thought-provoking lyricism that gives everything a tremendous sense of heart. Every song feels akin to a suite in a greater symphony, for the songs build off each other. Inspirational to its very core, from the rush of rhythms to the kaleidoscopic colors of the melodies, everything works.
Not a moment is wasted on the beautiful bombastic opener "Today's Tomorrow". Full of powerful beats and comforting vocals, the sound washes over the listener. Things slow down considerably on the lovelorn tale of "Just Because U Love Someone (Andy & Kerrie)". Strings and synthesizers merge on the rush of "I Just Want to be the One". On "I'll Be Alright (Loving You)" Andy Michaels strips the sound down to the absolute essentials. Barely raising his voice "Where are you Now" goes for a caring compassionate credo. Easily the highlight of the album comes with the nimble "Home (Radio Edit)". Simple yet effective the powerful "Lucretia's Eylandt (Ft. Sharon Court)" has a timeless quality. Ending everything off on a high note is the hypnotic closer "Angel with Choir (Ft. Kerrie Ironside)".
http://www.andymichaels.com/music/
"Revisited" displays Andy Michaels' uncanny songwriting ability, featuring narratives of those who defy all odds to transform their lives.