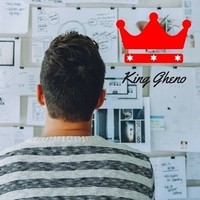 King Gheno teems with energy on the hyper-kinetic flows of "Plan In Motion". Many layers of sound work in unison to give the song a psychedelic, trippy vibe. Speed adds to the overall mood of the piece, further emphasizing the tension that comes with waiting for a plan to fully unfold. Quite thoughtful the whole track burns at both sides, one from the intense vocal delivery, the other from the power of the physicality of the percussion. Underpinning all of this is a tender melody woven deep within the track's DNA, helping to give the strong a confident stride that guides the entire piece forward.
From a singular piano chord and surreal vocals screaming across the track, things get started pretty quickly. The hit of the bass hints at the groove that eventually settles with such a tremendous sense of power. Letting the vocals further become part of the overall sound, with almost a shoegaze-like feedback loop, is a rather masterful take and helps to make the song feel all-consuming. Layer upon layer of sound is applied with a painterly precision, as King Gheno's flow consumes the entirety of the song. By letting everything build up carefully King Gheno creates a virtual tapestry of sound. Over the course of the piece everything gradually careens wildly. Towards the end King Gheno strips the layers away revealing the powerful heart of the piece.
https://www.facebook.com/KingGheno/
"Plan In Motion" shows off the undeniable craft of King Gheno in sculpting an entire world, one that feels positively inspirational.