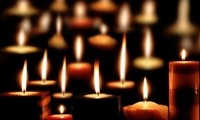 Rev Peter Unger goes for a home-spun country feel on the communal spirit of "Blood On Our Hands". Lyrics play off rhymes, fables, while providing tremendous insight on the ways of the world. Done with the utmost of taste there is a gentle spirit that guides the entirety of the piece. While a story unfolds of the sadness experienced by those who have suffered, a hope emerges from the song, one that shows how when people come together they can overcome. Instrumentally the piece simply soars, featuring gorgeous guitar playing that seems to sway about with the rising energy of Rev Peter Unger's confident vocals.
Audio: https://www.reverbnation.com/revpeterunger/song/29253051-01-blood-on-our-hands
With a western twang the song begins at once, nicely setting into a pastoral groove. Completely bereft of percussion, the way the piece unfurls gives it a nearly dreaming quality. Over the course of the track Rev Peter Unger settles upon a yearning temperament, one that hopes for improvement in the ways of the world. Focusing upon the loss of the innocents, those who have suffered at the hands of individuals unwilling to change. Layer upon layer works wonders as the song evolves with such grace. Bass possesses an emotional impact to it, as it is used with such delicacy. Akin to a great cycle, the song ends with a pitch-perfect mantra.
Site: https://www.reverbnation.com/revpeterunger
"Blood On Our Hands" explores a thoughtful message, one that demands the end of arguing and the decision to move forward, to change the world for the better.