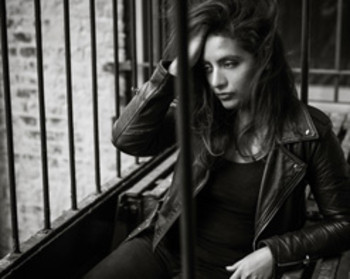 Nadia Kazmi is an artist that is impossible not to root for. Her music has been described as pulsing and melodic, with an attention to reflective lyrics based on life experience. Kazmi's songs are like letters from a friend. They're reassuring, insightful, easy to cherish. They invite revisitation, and sometimes even contemplation. And they continue reverberating long after they're done playing.
Her latest single "Like A Cat" is as autobiographical as it is metaphorical; Its lyrical makeup teeters on the line of poetry and prose. This straight-faced kind of songwriting can be traced back to the likes of Leonard Cohen, Patty Smith and Bob Dylan, some of Nadia's biggest influences. "Like A Cat" is the third single off her Gold Into Dust album. The 2017 release flaunts an honest originality with the lyrical prowess of the aforementioned greats and the intelligent musicality of indie heavyweights like Arcade Fire. "Like A Cat" opens with the beating of dry drums awaiting the haunting deep entrance of Nadia's baritone voice. Her words are engulfed by the dark, droning melody in the verse, setting the stage for the explosion of the chorus, where her emotive voice is met with stabbing piano keys, electric guitars, and rich harmonies. Lines like "Been sleeping like a cat in the afternoon with my belly up to the sky" mirror hard hitters like "Must be the booze and the drugs and the heartache I can't seem to shake", crafting an eclectic cocktail of intriguing and insightful songwriting.
The "Like A Cat" music video opens by presenting Nadia in next-to-nothing lighting, only illuminated by deep blues and reds to reflect the mood of the song. As the tune proceeds, the setting bounces back and forth between darkness and light, but she's still haunted by the same thoughts. Directed by fellow members of the HIP family Anana Kaye and Irakli Gabriel, these emotional shots serve as the perfect visual aid to such a personal, emotive track.