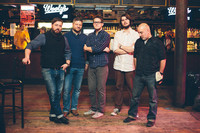 Aptly named, the Nadas delve into a gorgeous, passionate indie rock sound with the tasteful timelessness of "One Louder". With soothing vocals permeating the entire album the songs possess such tremendous energy. Effortlessly drawing from classic rock with elements of classical coming into the mix, the whole album feels akin to a great story with each serving as its own chapter. Keyboards glisten with a tremendous lightness while everything swirls about with an incredible gracefulness. Over the course of the album the best part, the true heart and soul, comes from the reassuring vocals that nicely merge with the mellowed-out grooves that dominate every piece.
Bombastic and beautiful, "If Everything" starts the track off right. Reminiscent of early 90s indie rock, the warmth of the piece is undeniable. Going for a more intimate approach the jazz-influenced "Rita's Hook" at times conjures up memories of the Sea and Cake's urbane cool. Stripping things down to the essentials the dreamy "Roses" goes for an atmospheric, contemplative temperament. Inviting rhythms take hold on the late-night vibes of "Left Hand" where the many layers of sound interact with such ease. This mood continues on the spacious scope of "I'm Only". With a full-bodied approach, "Best Weekend" possesses a joyous driving tempo as the piece rushes by. Playfulness defines the giddiness of "Henry James". Perfectly ending the album is the tenderness of "I'm Still".
https://www.facebook.com/thenadas/
With "One Louder" the Nadas embark on a fine journey, one which feels so real and vital.