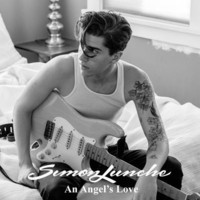 Simon Lunche embraces a sunny, summery sound with the intimate "An Angel's Love". Tenderness overflows throughout the entire piece for the melodies have a great richness to them. At times Simon Lunche's tasteful yet creative arrangements recall the similarly thoughtful work of Grizzly Bear. With a poetic form of lyricism that explores the concept of love and compassion, the song unfurls with such grace. Vocals serve as the soulful center of it all from which all else flows.
Little time is wasted as Simon Lunche sets the tone for the track. Atmospheres linger about with a gentle spirit. Rhythms have a loose, almost jazz-like quality to them while they move forward with a great deal of patience. Yet even within the percussive elements Simon Lunche infuses it with a careful amount of emotion. Everything simply comes together into a gorgeous stream of color, as the whole thing has a stream of consciousness quality to it. Never rising his voice, Simon Lunche chooses a soothing approach as his voice has a great deal of comfort within it. Various flourishes help to further give the track an intricate, almost cinematic sort of quality to it. For the final stretch of the entire piece Simon Lunche lets loose, showing off the impressive guitar chops which give everything a bluesy quality.
https://www.facebook.com/SimonLuncheMusic/
With "An Angel's Love" Simon Lunche delves into such a rich environment, one that emphasizes the importance of self-reflection and how it can build up a relationship in a most satisfying fashion.
By Cris Folkes