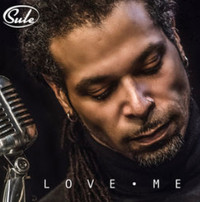 "Love Me (Country Swing)" is the new single by Sule (pronounced Soo-Lay), an artist with a deep background but it's a bit of a mystery to most of the world. He was brought up on the music of the 70s and 80s, acts like Led Zeppelin, Neil Young, The Police and Jimi Hendrix had a preliminary influence. "A healthy diet of everything from Marvin Gaye and Prince to Miles Davis, Louis Jordan, B.B. King, and George Benson helped to round things out. For Sule, breaking musical boundaries is only natural. This Cross pollination can be heard on his two studio albums 'The Fall,' 'Alive' and singles."
The song "Love Me (Country Swing)" doesn't find Sule in the country swing category, it's just part of the song title and that might be something new for him, but it's such a hard thing to know at this stage, not having heard his music before. But the consensus is, he can play anything in any genre. It's great to hear his soulful voice in any capacity though and applied to the song it comes out a very strong combo. The track bubbles along softly and naturally with no forced energy to be found, and by the time the organ swirls away at the fade, you're hitting the loop button for sure. It never gets old once you hear it, and that's powerful enough alone to expose it.
He's been around, so that's one thing to make perfectly clear, and any self-respecting veteran can dismiss their own past when trying to forge new musical avenues, and that's a testament to how humble one can be. He's making new footprints for himself on this, and it could take him down a whole different path as a recording artist. At least that is how it all appears at this stage in the game. I had never heard of him and couldn't find a lot to describe his career, but the music is doing the talking, and it's worth looking into his previous work to hear the differences in him now.
Asking to be loved usually makes for a good song, and that's really what it's all about, because the outcome of this song proves it. But I wish I knew more about his story, I'd be able to say much more about where he's been and what he's done, which includes working around and touring with some seriously great artists over the years, like Lionel Richie for one. It is safe to assume he's been a soul and pop artist, but perhaps this is a new twist. It raises not only interest but questions about his career, and that applies much interest to him. "Love Me (Country Swing)" goes a long way in drawing said interest his way for new listeners.
The track follows an almost shuffle-like pace and that fits the soft-ballad script, so there is no meandering to find the point, and he delivers an awesome vocal job in the process. It's a slinky number with the right elements to showcase his voice, and the melody and acoustic playing are fantastic. But this is essentially a ballad with a few bursts of energy in the right spots, and it's important to note that over and above all because it describes the energy level and pace of the excellent song. This is as fine a place as any to start with Sule's music and go from there.
I-TUNES: https://itunes.apple.com/us/album/love-me-country-swing-single/1341785696
Larry Toering