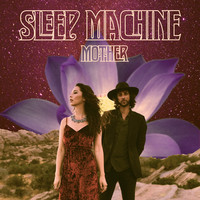 The latest single from Sleep Machine, "Mother", builds on the stunning success Alisha Zalkin and Dan Kalisher has experienced since their duo debuted with their first EP Cover Me in Gold and reaffirms the strengths we heard on that initial release. Their post-modern take on the blues brings a raw, immediate modern sound together with a mastery of blues fundamentals and tops things off with a distinct singer/songwriter sensibility and they exhibit the same enormous confidence on this track that's marked their earlier tunes. Their exposure on television, in top flight live concert positions, and featured placement at sporting events has carried the duo to a high degree of prominence on the modern scene, but their latest single will undoubtedly propel them to an even higher level than they've previously enjoyed. Their influences come through strongly, but they own it all with a singular style that outstrips the efforts of virtually any contemporary or peer.
The Los Angeles based tandem revolves around the vocal talents of Alisha Zalkin, but Dan Kalisher immeasurably adds to what she does. His sinewy, deeply emotional guitar never takes short cuts to the listener's emotions and mixes real sensitivity with plenty of rock attitude at key points. His work is particularly combustible when contrasted with the strong drumming and bass attack giving the song its foundation but, even in moments where its just Zalkin and Kalisher's guitar, the potential of this act shines through just as brightly. "Mother" practically throbs with passion vocally, lyrically, and musically and it begins with the kinetic magic generated by its two prime movers. There's a tone set from the first that they follow up on and it results in one of the most unified, coherent slabs of blues rock you'll hear from recent history.
Zalkin never sounds clichéd. Instead, she soars, dips, brawls, and throws every bit of her heart into convey the lyrics and song's overall message with no sense of saving anything for herself. It's an exhausting performance that, nevertheless, will leave many listeners exhilarated by the track's conclusion. She clearly listens closely to Kalisher's guitar work and dovetails her voice accordingly to make the song work even better and it's impossible to not admire the forceful, confident way she brings off her contributions to the song. Cover Me in Gold, the band's debut EP, was a real burner, but it's obvious now that the duo's artistic growth is exponential and "Mother" represents a real quantum leap over where they were before. Tonight Show appearances, placements on important television programming, and live appearances in five star venues like Los Angeles' Viper Room speak to the progress they've already made, but this new single is likely to accelerate their renown even more and soon, with any justice, Sleep Machine will be much more of a household name in music circles.
https://www.instagram.com/officialsleepmachine/
By Daniel Boyer