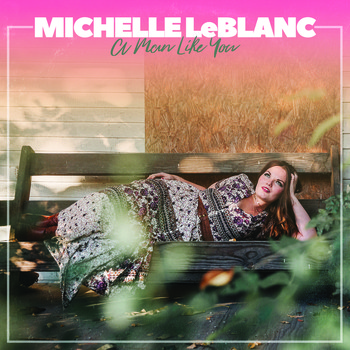 Nashville-based country/Americana singer-songwriter Michelle LeBlanc is set to release her debut EP, A Man Like You, on March 2, 2018. Produced by Nick Buda and recorded at The Loft Studio in East Nashville, the record is a true reflection of LeBlanc's own fiery heart and gypsy soul, where she wrestles with love and vulnerability and her decision to leave it behind. "If there's one thing I know by this point, it's that if something's meant to be in your life, it won't let you give up on it," she says. "Music and the songwriting and Nashville—they continue to teach me this."
A Man Like You is a collection of songs about the time in her life when she took a leap of faith to move to a new city while having left behind someone she felt deeply for but could never talk about those feelings out loud. "This is sort of a confessional album where I'm exploring all of my unresolved feelings for someone and sifting through how to move forward having made my own decisions," she says.
"BTW," the second song single from the forthcoming EP, was born from those unresolved feelings. "Long story short: this is basically a song where I confess my feelings for someone I had felt deeply for and who I maybe pushed away over and over again unintentionally," says LeBlanc. "When I wrote 'BTW,' it was around New Year's 2017, and I was a year into having made a move to Nashville from NYC. I made the move having never really dealt with my feelings for this person from my past life, and I honestly had hoped the big transition would just wash all those confusing, vulnerable feelings away. But of course it didn't. The regret of having not ever put myself out there to that man pretty much haunted me my whole first year in Music City. I was at a place where I knew I couldn't avoid it any longer – that I had to tell him how I felt to be able to move forward in whatever way that was meant to be. And so I did. I wrote this song, recorded a voice memo of it, and texted it to him. Poor guy."
When asked about her favorite lyric line from the song, LeBlanc says, "'As meant to be as it felt to me, I kept leaving. 'Cause why would a man like you ever want a woman like me.' It's a very sad and very honest lyric. It's about how my own feelings of unworthiness were always the thing that would keep all of my desires at arm's length. It's kinda where I take responsibility for my part in the whole thing never getting off the ground, and how my insecurities and defenses basically created the outcome I was most scared of."
Born in Columbia, South Carolina to a local singer/songwriter, LeBlanc discovered acting as a teen, which took her eventually to New York City to pursue that dream, yet she also taught herself how to play the guitar and write songs. "I really loved digging into the characters and their stories and all of the collaboration that came with acting," LeBlanc says. "It was safer to tell other people's stories. Writing songs was always about my own personal stories and that was scarier." While in the process of leaving a tumultuous relationship and after leaving a job in NYC that she called "insane and toxic," LeBlanc found herself unsure of where to go next. She booked a tarot card reading in the hope of finding some answers. "The tarot card reader basically told me that I was going to move to Nashville—that was where I was meant to be—and that people needed to hear my music," LeBlanc says. "She also said I can't hide anymore, and that I was also going to meet a man connected to that city." At that point, Nashville had not been on her radar, but something about it felt very right. She made her first trip there a couple months later and eventually made the permanent move to Nashville to pursue her music.
"It was so clear that this was the place I was meant to be," says LeBlanc about Nashville. "But it took me a few years to finally make the move. I loved NYC and wasn't ready to leave so quickly. Eventually, it sort of pushed me out kicking and screaming. It really was a super easy transition though, as most are when you fall in line with your path. I wrote a ton with a lot of people that first year, and I was sifting through all the lingering feelings about my past and all the uncertainties of my future life that I was building from scratch. A lot of my lyrics in these songs are laced with all those thoughts."
As LeBlanc recalls, "BTW" almost didn't make it onto the EP. "Timing is always divine," she says. "This song was not on the original track list – it wasn't even written when I first started coordinating recording this EP with my producer Nick Buda. But for whatever reason, getting into the studio kept getting delayed. I'm so glad it did and now I know why, because in the meantime, I wrote this song and I sent it to this man, and it really did end up being the missing link to the whole EP. I remember avoiding singing this song in the studio. It was so fresh and raw, and, in that moment, I was pretty much crushed by the careless way this guy had handled responding to me once I finally told him how I felt. So, stay tuned for the LP! Nick did such a great job with this whole EP though, and I especially love the vibe of this track in particular. I think it sets up the whole collection of songs pretty perfectly."
http://www.michelleleblancmusic.com/