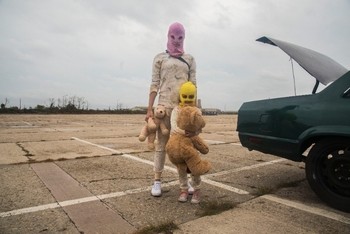 Today, we're announcing Pussy Riot's first live music performance art tour through America. The feminist art collective protest against the re-election of Putin as the President of Russia earned them a long, fake trial that led to a 2 year prison sentence for "hooliganism".
Pussy Riot's performance will include Nadya Tolokonnikova among others, Pussy Riot's member whose identity was unfortunately and abruptly revealed after her arrest for performing 35 seconds of the Punk Prayer "Virgin Mary, Put Putin Away" in Moscow's Savior's Cathedral in 2012.
Besides Pussy Riot's headline dates that can be described as an extremely politicized marriage of performance art and a concert, they will also take over music stages at Boston Calling and Hangout Festival. Pussy Riot's worked on new music and video art, such as: "I Can't Breathe", their first English language song made in honor of Eric Garner, "Chaika" about Russia's corrupt prosecutor general, "Make America Great Again" which was eerily created and shot before #45 was elected president, and "Police State" which was released ad the end of last year with a video starring Chloe Sevigny. Alongside the performances, there will be new art revealed to spread the continued calls for action and protest to a wider audience.
photo credit: Sacha Lecca