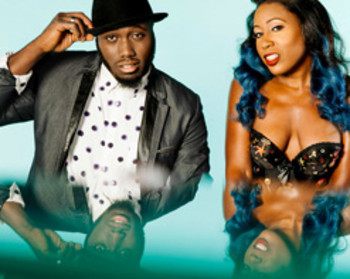 Some groups come together after a period of planning, but sometimes things happen organically. Husband and wife duo Dee Rhodes and Erika Rhodes had both been making music on their own for years when Dee reached out to Erika on Facebook. Their paths went on to cross a few times and when they kept running in to each other in the musically inspiring city of Atlanta, they realized it was time to team up. "We see all these other successful cover bands, why don't we put our own together?", they thought. But their aim was always to do "something edgy", and as they worked to find inspiration as a cover band, it was a natural evolution to an original project. Thus, The APX ("The After Party Experience") was born.
Earlier this year, The APX released their first studio project Electrik Funk on Sleepers Records and Neon Fingers Records. They describe their sound as "modern funk with an electronic twist", and fans, critics, and fellow musicians are loving it. Singer-songwriter and musician Teddy Riley calls the group "Incredible!", Kiss 104 FM Atlanta says "The APX is keeping REAL funk alive!", and Creative Loafing describes their music as "Saturated in the funk… while still blazing trails of their own design!". Things are still full steam ahead for the duo, and before 2017 is over they'll be releasing a deluxe edition of Electrik Funk with four new songs plus an instrumental version of a previous song.
One of the new songs included on the deluxe edition is "Right On Time", an everyday feel-good love song. "We wanted to have a song that just felt right as soon as you played it," Dee says, explaining that "production is our strong point." For the video, they aimed for an "80s feel with a modern twist", blending 80s funk and new wave and combining sonic and visual influence from everyone from Jody Watley to Phantogram. Styled by Gizzelle James along with clothes from Shirts by Ocee, the video features black and white graphics arranged by Dee as independent filmmaker Reggie Miller helped bring their vision to life.