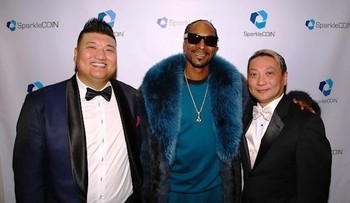 SparkleCOIN, the blockchain currency that launched in September, celebrated a double-digit value increase during its initial coin offering (ICO), and the launch of the company's VCoin Exchange, with a star-studded gala hosted by iconic rapper Snoop Dogg.
SparkleCOIN founder and CEO Victor Wong treated attendees like actor Noel Gugliemi (Training Day and The Fast and the Furious), Olympic Gold medalist Ed Moses, rap stars Too Short, Bow Wow, and Trinidad James, musician and actor Ray J, legendary music manager Steve Lobel, and R&B musician and Instagram sensation Dennis Graham – the father of Grammy-global icon Drake – to premium cocktails and hors d'oeuvres from The Bazaar, the Spanish-themed restaurant founded by James Beard Award-winning chef José Andrés.
With DJ Snoopadelic (Snoop Doog) on the wheels of steel setting the tone for the night, the SparkleCOIN gala featured casino-style gaming with a chance to win over $30,000 in cryptocurrency. Coin-holders, influencers, journalists, and celebrities were among the guests who received $500 in chips upon entry to start gaming. At the end of the evening, winnings were then traded for raffle tickets. The first, second, and third place raffle winners received 500, 300, and 100 SparkleCOINs, respectively. The value of the prizes earned is in excess of $33,000.
A highlight of the night, Mr. Wong presented Snoop Dogg with a donation of 1,500 SparkleCOINs, currently valued at $55,500, to support the Snoop Youth Football League (www.snoopyfl.net), a non-profit charitable organization that since 2005 has served inner-city children ages five to 13, fostering values of good sportsmanship, respect for self and others, and academics.
"I appreciate and accept this kind gesture on behalf of my football league," said Snoop Dogg.
SparkleCOIN's ICO continues through Thursday, December 21 at 1 P.M. PST/ 3 P.M. EST / 8 P.M. GMT. The SparkleCOIN gala was held at the SLS in Beverly Hills, December 15th.
Pictured: SparkleCOIN Chief Financial Officer David Chen, Snoop Dogg, and SparkleCOIN founder and CEO Victor Wong. Photo Courtesy A. Turner Archives