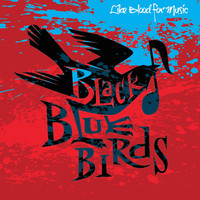 When I see the words Black Bluebirds and "Love Kills Slowly", I'm thinking this may be of a very dark nature and possibly in the realm of Goth Rock but I was pleasantly surprised and somewhat off-base. This Minneapolis, Minnesota-based band and their song "Love Kills Slowly" encompass a wide array of styles & elements that comes across as wildly disparate. This single is off the album 'Like Blood For Music' and proves to be far from pretentious but rather deeply original. I didn't sense pure Goth Rock at all but did hear melodic metal/hard rock blended with New wave Pop and some dark undertones.
Streaming audio link – https://blackbluebirds.bandcamp.com/track/love-kills-slowly
This telling trio consists of: Daniel Fiskum, Simon Husbands and Chad Helmonds and I can bet you've never heard anything quite like them before. Black Bluebirds are like mad scientists who have come up with a secret formula fizzing with endless obscurities. "Love Kills Slowly" embodies heavy synthesizers, driving rhythms and mindful melodies that consume the listener and makes for one hell of a listening experience. This experimental sound is so unconventional yet it grabs you and demands your attention. It's no wonder that Prince, The Doors, David Bowie and David Byrne of The Talking Heads are all major musical influences for Black Bluebirds.
Just as David Byrne and The Talking Heads sang about "Burning Down The House", Black Bluebirds are tearing down the wall of restrictions, labels & genres. "Love Kills Slowly" is limitless taking you through many peaks & valleys making your mind race & wander. I'll leave you with the group's motto that's short but concise: "Rock isn't dead. It isn't even sick. Minneapolis saves the day. Black Bluebirds."
By Jimmy Rae (jrae2@att.net)