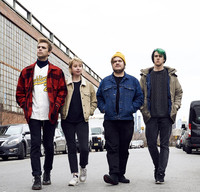 Fovea – Pencil Me In, is an extraordinary collection of songs featuring Steve Shaw on bass, guitar and vocals, along with Max Weigel on guitar and vocals, keys and electronics. And Jake DeNicola on drums, vids and foley, and singer Halley Furlong-Mitchell on vocals, keys and violin. To describe what fovea means, it's a cone-laden within the retina which is the discernment of depth and detail. On their debut full-length album, they show every side of the musical spectrum to the world in what is essentially a colossal hodge-podge of eclectic tunes that reach beyond the scales of variety, including rock, pop, jazz, ambient and psychedelia.
BANDCAMP: https://foveaband.bandcamp.com/track/boss-boy-2
With twelve of the most varied songs to hear on one album, there is much to cover, even if their lyrics are self-professed to be double entendre and of no meaning from their perspective. But after listening it's also evident that these songs are about all about something, they just leave it up to the listener, rather than hang hooks on where they're coming from. The album kicks into gear right away on "Boss Boy" and it's hard to know what's going to happens from the sonic values of the intro, but it instantly gets you expecting good things before the trip-hop oriented vocals start to carry the track in duet fashion on this cool opener.
The attention to detail factor is countered by the lyrics not mattering, according to the band. This is not an easy balance, but it makes everything very interesting and allows the music to travel miles within one song. "Don't Play" follows with fantastic vocals led by Holley Furlong-Mitchell (who isn't hard to rate as a world class talent herself). This is a bit of a musically mixed track, but an undeniably awesome one at that. It's two for two so far and that makes room for something yet completely different on "Cost Of" which manages to take them heavily into jazz singing territory, backed by a classical ambient sound.
The keyboard textures keep it real interesting before a beat changes everything with great percussive values. And then there is "Chiamami" which just serves to set up the next track with some techno applications and a bit of explicit spoken word, as if to be talking on the phone to someone. But the next track itself takes yet another turn, and an expected one by now because it's no secret this is an intended wide variety of music to enjoy the twists and turns of. "Always" doesn't seem to pick up with the briefness of the former left off, but it's no use analyzing their lyrics to even find that out. This track is quite the thing of beauty worth hearing, and that should say enough.
"Sent" is just a short sentiment with more spoken word, which by the way infuses a progressive charm to the whole album on top of what is already a remarkable effort by all involved. They go even further over the top on the excellent "Dad Dreams" to take them the full distance. It plays like an epic masterpiece, and although that might not appeal to the pop side of things, it's massively entertaining for rock and jazz music aficionados. It rides above most of the tracks, but also worth noting are "Worn Out" with its hypnotic vibes, and last but-not least, the extremely sublime and narrative "Received" closes it out with more spoken word, backed by horn passages. The final words really say it all.
FACEBOOK: https://www.facebook.com/foveaband/
Larry Toering