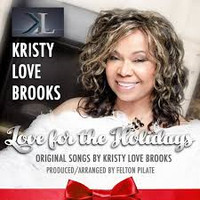 The new Kristy Love Brooks CD – Love For The Holidays, comes just in time to recap a long year with a collection of half originals of her own and half traditional holiday classics. Kristy is a singer-songwriter and executive producer who teamed up with multi-platinum producer-arranger, Felton Pilate, for a jubilant release. The CD kicks off in traditional fashion with everyone's favorite "Joy To The World" and it's a refreshing new take on an old iconic number. This is not just some cover version, and that's only the first impression you get. It's a faithfully rearranged version of her own that does major justice.
The smooth and jazzy "Love For The Holidays" follows with the same amount of attention to musicianship and professionalism in everything from the songwriting to the spirit of the season it's about. The over all theme of the CD centers around Christmas without any holding back, and that makes for an honest CD of great new and old tunes by a true artist who knows how to bring peace and joy to anyone who hears it. There's no denying the infectious gospel grooves of "Go tell It On The Mountain" once you delve into it. This is another classic tune that she stamps her own signature on with great respect to the original.
URL: http://kristylovebrooks.com
"Nature's Lullaby / Color Me Blind" is an original that you'd swear you've heard somewhere before over the years, so it might contain something traditional in it as well, but if not, this is even better than I can possibly describe. This is produced so well it's match-fitted for any movie soundtrack. It's that big sounding, and it showcases her voice in as good a way as can be done. The song has two moods and mixes them together as if they're one. "That's What I Want" floats along nicely to her next original, which is more holiday oriented than the previous self-penned cut.
The world class appeal of her voice and the spot-on songwriting are what jump out the most, as she pours it on super-strong with this extremely soulful ballad. Another original following in the same fashion but perhaps even more scripted to the holiday factor on "Everyday Is Christmas" which speaks as much for itself in the title alone. It goes well with yet another piece of the same status but of a more rocking tempo on "Give Me Love For Christmas," which comes along at just the right time if you like surprises. You get everything here from the spirit of Christmas culture to heavy beats, guitars and even bow bell.
"What Child / Silent Night" gets the most faithful to original efforts, but what grand efforts in the process. It's a beautiful hypnotic version that anyone can process and be inspired by with top marks achieved all the way. And keeping up her own thread of Christmas songs, comes "Christmas Day," and it brings you into her cozy little family party. And to cover the whole collection, she takes it out with a respectful version of "We Wish You A Merry Christmas / Auld Lang Syne" and "All Over The World," which goes the distance on this Christmas CD. As it ends it will even have you up and dancing.
CD BABY: https://store.cdbaby.com/cd/kristylovebrooks2
Ben Larson